Ego V2 Now Available!!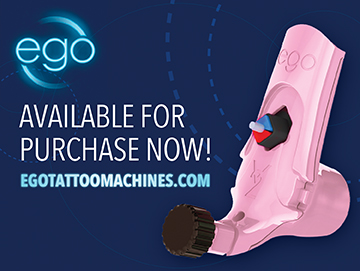 The Little EGO V2 is an extreme-lightweight rotary tattoo machine with a wrist friendly design. With all of the weight shifted forward to create a pen like feeling and eliminating wrist pain, the ego is perfectly balanced for maximum needle control. Made from high-grade scratch free plastics and with a special UV coating it makes the machine easy to clean, robust and extremely light weight.
The Little EGO V2 still features the remarkable "power triangle" system which allows you to alter the "give" of the machine. Each machine comes with a variety of different power triangles and each color is a different density of rubber. These simulate the conventional spring effect of coil machines and allow the artist to configure their EGO exactly how they want it, in terms of give and throw. Any combination of rubbers can be used to create the perfect machine for lining, coloring or super soft shading and blending.