Mike Drexler Tattoo Machine Builder
Interview by Adam Lauricella
In February of 2011 I headed out on a day trip with some colleagues to the Philadelphia Tattoo Arts Convention. I was looking for inspiration and a tattoo machine. I wasn't sure who I would come across but I was hoping something would catch my eye. Lucky for me, something did.
As I crept through the packed aisle searching for a new tattoo machine, I looked up and saw this very minimalist banner. It was reminiscent of images you might find on the pages of a vintage Sears and Roebuck catalogue. Hand Made Machines was written at the top, the builders name on the bottom? Mike Drexler.
"Drexler…I know that name", I thought. Mike's name has been thrown into the mix from time to time when talking about bright spots in tattooing. Most recently Mike was a resident tattoo artist at Flyrite Tattoo in Brooklyn, NY. At 38 years old he has taken on building full time to meet the demand of his well-crafted machines. The first thing I noticed was how clean and well crafted his tattoo machines were; the second was how approachable he is.
In talking with Mike while running his machines it took almost no time to realize I was to be heading home with a cutback liner, simply named the "model 7." The model 7 is a no nonsense liner, fast and constant with a nice hit. The machine, like his entire current line is flat black. The coils are cleanly wrapped with oxblood gaffers tape. Some coils were wrapped in navy blue other hunter green, but my new coils were a deep maroon. If Owen Jensen and a Spaulding Supreme had a baby, it would be the model 7.
Mike is based out of Brooklyn, NY; but he splits his time upstate in West Hurley, NY. West Hurley is a small little hamlet just outside Woodstock, New York. It is there that most of the building is done. Mike has a machine shop on the property of his home. That shop is about an hour from my tattoo parlor, Graceland Tattoo. As far as tattoo equipment goes, it's the closet thing to "buying local." That sealed the deal and I carried around my new liner inspecting it periodically as I spent the rest of my day at the convention.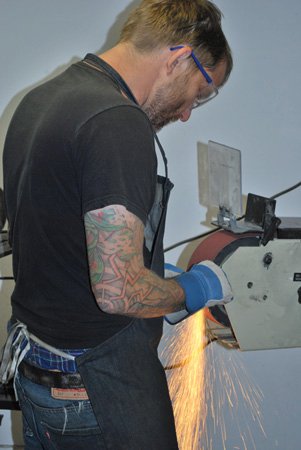 Over the last 8 months Mike and I have stayed in touch. I later went on to by a shader from him. He walked into Graceland Tattoo carrying a rifle case. The case was stockpiled with an arsenal of machines; it was there that I found my color packer. One that is dependable and versatile. It's known simply as the model 3 shader. All Drexler machines have a model number and that's all. In an age where clever machine names are important to marketing a product and a smart way for builders to stay fresh in the minds of would be buyers (which is legitimate and refreshing in its own right); there is something comforting in the simplicity of a model number. In talking with Mike, and getting to know him a bit, I was invited to come up to his machine shop and check out the scene. Something I couldn't pass up.
After shooting North up the NYS thruway I found myself turning onto a narrow, unpaved road. I rounded the corner of this country road to come upon a beautiful piece of property which surrounded his home and work shop. I was met at the driveway and welcomed in by Mr. Drexler.
One thing that is immediately recognizable is how organized and methodical Mike is. His work space is an impressive one man operation. He had a table neatly packed with side plates, base plates and spring shelves all waiting for some welds. Mike has his tools and equipment set up like a circuit. There are all the necessary tools needed to make hand made tattoo machines. All of Mike's equipment is well maintained. His belt sanders, grinding stations and drill presses line the walls. When Mike is in his shop it's all business, no distractions. There is something calming about his work space. It's a world on its own; independent of anything else…private.
He took me into his home where he had a power supply set up and a well worn binder that looked like the Dallas Cowboys playbook. It was packed with hand drawn blue prints for his entire line of tools. He admits design, technique and approach to building keeps him up some nights. Mike has a quick wit and a scientific brain. He is meticulous in his approach to machine design and building. Drexler can almost sense your question before you ask it. It's not done in an over bearing way, rather, you can tell he's interested in his interaction with you.
Mike validated different frustrating experiences I've had using different machines through out the years. He had a lot of answers and some great insight. I will be clear, I am NOT a builder. My questions come from the perspective of a tattooer, someone who loves a well-crafted machine. After having some light shed on different technical questions, I had a chance to ask some other questions. The Q&A I will share with you now. I think Mike Drexler has an important voice in tattoo machine building and in some circles, there is little known about him or his machines. His machines are widely used in Europe, an exploding market. Yet this American builder should be on the tip of every tattooer's tongue and if you don't own a Drexler machine it should certainly be on your short list.
A- When did you begin tattooing?
MIKE-I began tattooing in 1997 at Al's Rock of Ages Tattoo in San Mateo
California. It has been 14 years.
A-At what point in your tattoo career did you make your first machine? What prompted you to do it?
MIKE- I started ripping machines apart and rebuilding them from the start.
My first machine, I totally built from hand (frame, coil cores, armature
bar etc...) was in 2002. I have always been obsessed with the
inner workings of machines. I moved out of NYC for a few years and had
the space for a small workshop, so that is when things began to
happen.
A-Do you still have that first machine?
MIKE- The first machines I built are in a drawer somewhere alongside many
other machines in various states of disrepair. They were really wonky
Paul Rogers machines.
A-When did you decide to focus on machine building as a serious trade? Has it taken you out of the tattoo making game?
MIKE- Not long after I got the workshop up and running and all the kinks
out, the machines began to sell. From then on, I juggled machine
building and tattooing. It took over as a full time gig about a year
ago.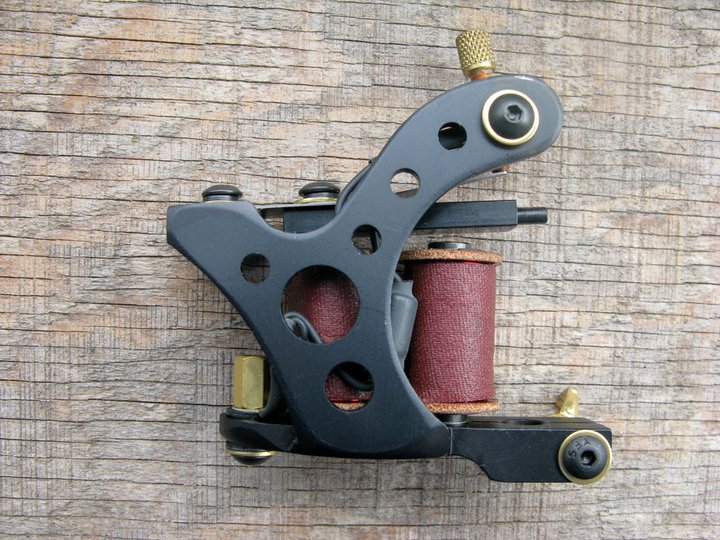 A-Do you have a machinist or fabrication background?
MIKE- I was always handy with tools. I built a lot of skateboard ramps in
the late 80's/early 90's. I also worked in a metal shop building boat
railings for a summer, so I became familiar with metal working tools
and rudimentary methods. The rest is self taught. I also paid
attention in shop class.
A- Could you describe your tattoo machine building style?

MIKE-I like to build machines that run any kind of needle grouping with
ease on the lowest possible volts. Just straightforward tools that
can be used everyday and take care of the task at hand without any
fuss. I don't like to spend too much time on the "gimmicky" stuff.
A-One thing I really love about your machines are the frames. They are fresh designs but are still familiar… "Instant classics." Can you briefly describe the machine frame design process?

MIKE-I like to keep the frame design pretty classic and clean. I base
them on tried and true geometry and infuse them with my own sense of
aesthetics. I aim to make a new frame that looks like it has been
around for a few years. First I start with a rough sketch done over my
geometry, and then when it looks good, I break out the calculator and
drafting tools.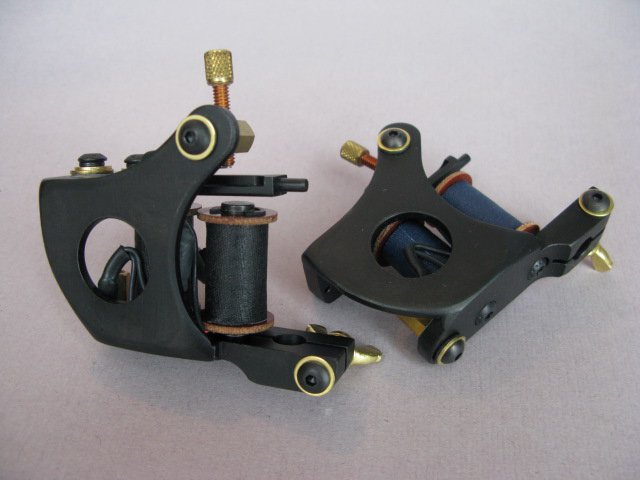 A-Do you have any thoughts on the up swing of "builders" out there?
MIKE- There sure is a lot of "builders" out there. I am not sure how they
come by the time and resources to build quality machines. Maybe a lot
of them have a buddy at a machine shop who helps them out with parts,
design, etc… As far as I can see, a lot of the builders out there seem
to focus on the looks of the machine and mostly ignore the mechanics.
For example: If they get the little bits and pieces to come
together and make the machine look "old school." They will ignore the
fact that they have contact screw standoff screw drilled in the wrong
place.
A-Where do you see your machine builds heading in the future?
MIKE- In the future, I see some small tinkering leading to some small
advances in how the machine runs. I have been experimenting with
different armature bar weights. I am going to offer a few different
frame finishes and coil wraps, just to fancy things up a bit. I may
delve into the realm of rotary machines as well, if trend becomes
mainstay.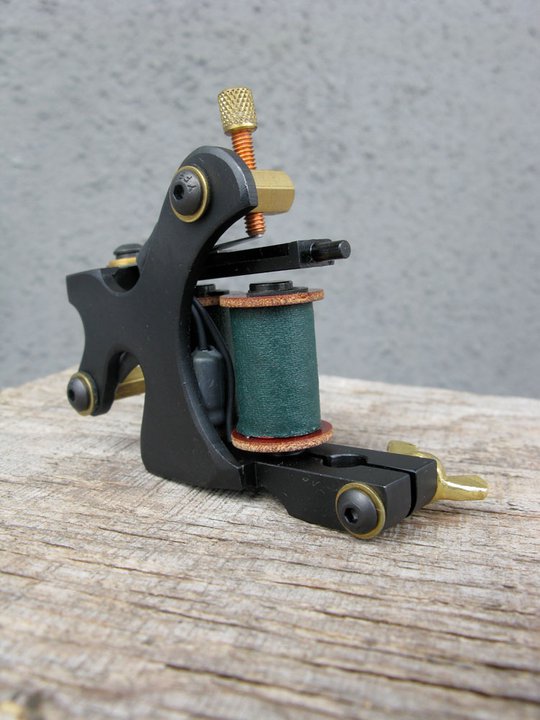 A-How can people get in touch with you?
MIKE- I can be contacted through Facebook at:
www.facebook.com/mikeydrex. Currently Facebook has my most complete
and up to date listings of what models I have available. I can also be
reached via email at drexlermachines@gmail.com.
www.mikedrexler.com is up, but out of date and currently under
construction.
You can also stay connected on instagram @drexlermachines
Interview by AdamLauricella.com